20 Fun Ways of Teaching Fruits and Vegetables to Preschoolers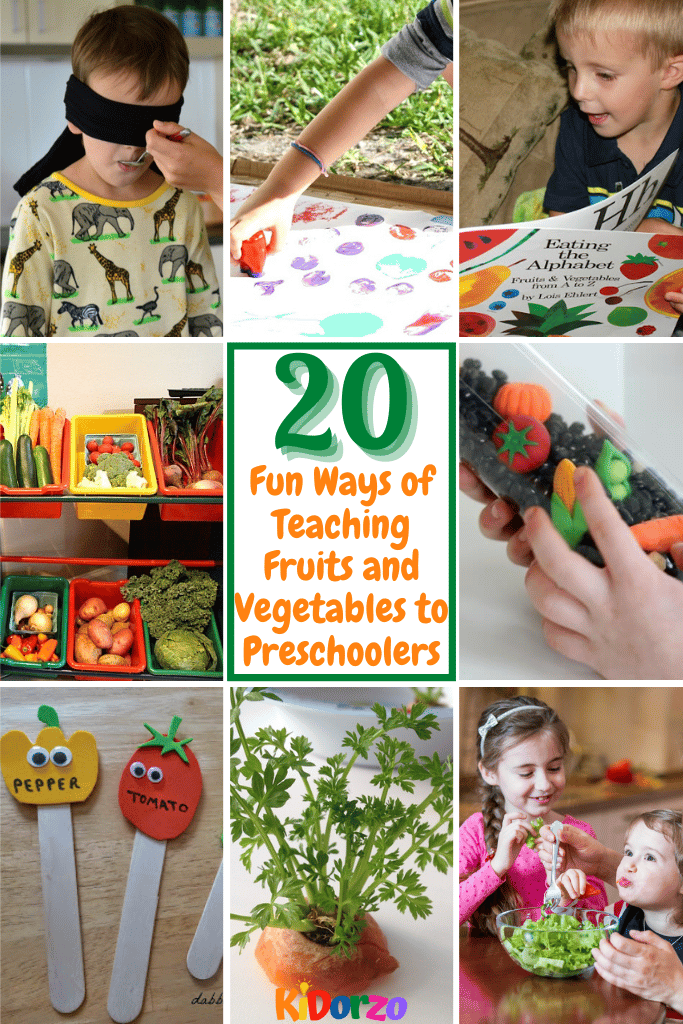 Fruits and vegetables are essential to a child's growth. That said, parents must teach their children about different fruits and vegetables so that they can start appreciating these wonderful things at an early age.
We all know that kids tend to get fussy about eating fruits, especially vegetables. This makes it more important to encourage them to learn about these healthy eating habits. What better way to do that than by making sure they associate them with something fun?
It may take time for them to love fruits and vegetables as a daily part of their diet but winning them over is possible with the right mindset and a few tricks up your sleeve.
And remember, the best way to teach your children is to lead by example. So, if you show them that you love fruits and vegetables, they will most likely follow you. Enjoy this list of fun ways of teaching fruits and vegetables to preschoolers.
Reading Books on Fruits and Vegetables
Reading to and with your kids about any topic is probably the best way to teach them. Spending time reading with your kids helps them understand the importance of. Choosing the right books to read to your children can ensure that the words, illustrations, and stories help preschoolers grasp the topics better.
Check out these Children's books that talk about fruits and vegetables for more ideas.
Eating The Alphabet Book
Indian corn, jalapenos, jicama, kumquats, kiwis, and kohlrabi are just a few of the delicious items that appear on each page as you flip through the book. This book is sure to be a hit with both parents and kids because of Lois Ehlert's vibrant watercolor illustrations and the large, clear font used throughout.
Vegetable Stand Pretend Play
Role-playing is another excellent way to teach your preschoolers about different fruits and vegetables. You can set up a fun and creative fruit and vegetable stand. You and your kids together with siblings or friends can pretend to be buyers or sellers. Doing this dramatic play by buying and selling fruits and vegetables is an excellent way for your preschoolers to learn about the shape, taste, use, and even cost of these healthy, colorful foods.
If you want to take it to the next level, you can pretend to work in restaurants and have cooking sessions where you can display and discuss the different fruits and vegetables. If you create enough happy memories with your kids about fruits and vegetables, they will more likely love to eat them when they grow up.
Fruit and Vegetables Play Food
Included in this 36-piece cut-in-half set are two knives, two cutting boards, and a zippered storage bag. Kids may practice their knife skills on 16 different fruits and vegetables.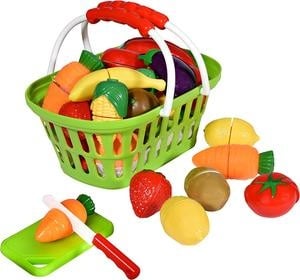 Fruit and Vegetable Basket
Bananas, strawberries, carrots, broccoli, lemon, tomato, eggplant, kiwi, starfruit, and chili pepper are some fruits and vegetables included in this 32-piece set, along with a child-safe knife and cutting board.
Bushel of Veggies
For children to grip, the veggies are constructed of safe, non-toxic plastic and scaled down. Maize, cucumbers, broccoli, red peppers, eggplant, carrots, yellow peppers, asparagus, and potatoes fill this plastic bushel basket.
Growing Carrots on Carrot Tops
This activity focuses on one type of vegetable – carrots! Carrots are full of nutrition and easy to find. When you offer carrots to your kids, they either love them or hate them.
Doing this experiment with your preschooler encourages them to appreciate carrots. It helps them understand the process of gardening and growing. They get to see the life cycle and associate carrots with their knowledge to help them see this vegetable in a happy and positive light.
In this experiment, you simply chop off the top of a carrot, place it in a dish with water to cover the lower part, and observe as it grows. You can ask your child to monitor the progress through photos, videos, or even drawings in a journal where they draw how the carrot tops look each day. Doing the journal also helps them develop fine motor skills as they try to draw the carrot's daily progress.
Fruits and Vegetables Flash Cards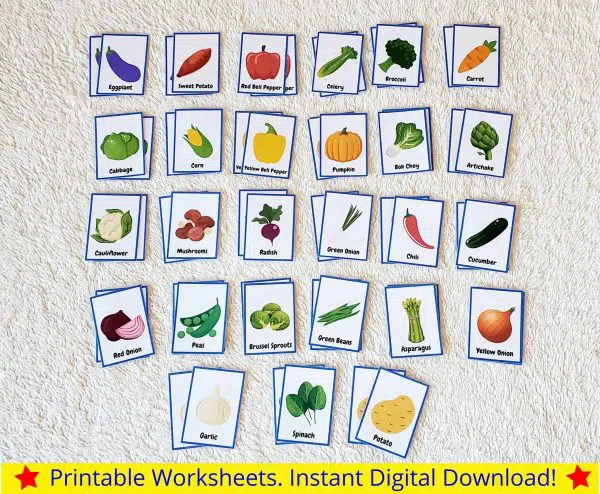 Flashcards are convenient, fun, and a highly effective way to teach kids any lesson. Thus, using them to introduce fruits and vegetables to preschoolers is a great idea.
You can purchase our downloadable vegetable flashcards below.
Printable Vegetable Flashcards for Kids – Fun Matching Game for 3-5 year olds
This printable vegetable flashcards collection will help your toddler start learning vegetables in a fun, engaging way!
This set of vegetable educational flashcards for kids is great for hands-on matching games to recognize similar images. The flashcards can also be used as a fun memory game even for bigger kids!
With your purchase, you will receive 6 pages that include:
⭐ 27 Sets of Vegetable Flashcards (3.25″ x 2.5″ each flashcard)
Matching Fruits and Vegetables Digital Game
Your kids live in a digital era and allowing them controlled access to digital learning materials is also a good thing. Having them play matching games about fruits and vegetables is a great way to start by teaching them about how digital technology works along with fruits and vegetables.
This Match It Game from Tiny Tap includes simple, efficient, and colorful ways to teach your kids about fruit and vegetable shapes and sizes through a digital game.
In this game, kids will be shown fruits or vegetables on one side and shadows of the same items randomly scattered on the other side. They need to drag and drop the fruit or vegetable to match the correct shape.
Play the Fruit and Vegetable Game
This basic game asks your children to identify what you show them as a fruit or a vegetable. You can create a line that assigns fruit on one side and vegetables on the other. The kids will have to move toward the side of their answer. You can show them drawings of the fruits and vegetables or show them the actual item. Of course, you'll have to gather the items from the grocery store earlier or just use whatever you already have in the kitchen. Regardless, this activity is simple and effective so try it with your kids!
For more ideas on changing this simple game into something more challenging or exciting for your kids, check out Apetite To Play.
Fruits and Vegetable Alphabet
The alphabet is one of the most important lessons to learn while a child is growing up. Learning the alphabet through fruit and vegetable pictures and guides is like hitting two birds with one stone; you teach them about the alphabet while slowly helping them get acquainted with fruits and vegetables.
If you want to learn more ways to make the most out of your fruit and vegetable alphabet preschool activities, check them out here on Preschool Play and Learn.
Fruit or Vegetable of the Week
There are plenty of fruits and vegetables that your kids should learn about. This does not mean that you must stuff all that information into just a few days. You can make it more fun and memorable by doing "Fruit/Vegetable of the Week" lesson plans with your preschooler. You can choose to introduce a different fruit or vegetable weekly for a variety of learning materials. You can talk about their shapes, color, and sizes on Monday, their nutritional value on Tuesday, how to cook them on Wednesday, how to plant or grow them on Thursday, and so on.
Fruits and Veggies Art
Let your kids have fun coloring fruit and vegetable cut-outs! You can add more fun to it with googly eyes (check them out on Amazon here) and other arts and crafts materials at home. This activity is fundamental and familiar because it introduces fruits and vegetables to your kids while helping them identify colors, shapes, and other basic sensory skills.
Taste Test Activity for Kids
See if your kids can identify a fruit or vegetable through taste! You get the chance to teach your kids about fruits and vegetables and feed them something healthy. You will only need fruits and vegetables that you have in your kitchen plus a blindfold, and you are all set to have fun while learning. You can do it in categories like "red fruits and vegetables you love." Doing this will add a unique spin to the taste test activity.
Lemon Volcano Experiment
Combine Science, Art, and Health as you do this food experiment with your kids. All you'll need are lemons, food coloring, dish soap, baking soda, and space in your home where you can create a colorful, fun mess.
As you set the lemons up and add in the coloring, adding in the final ingredient – the baking soda – will start a reaction that starts with a fizz until they start to overflow out of the lemon. Watch your kids' faces glow in amazement as the colors begin to bubble out of the lemon right before their eyes.
For a step-by-step guide on successfully recreating this experiment, check out 123 Home School 4 Me.
Visit a Local Orchard
What better way to teach your preschoolers about fruits and vegetables than through a visit to your local orchard? Showing them how these plants are grown, taken care of, and harvested will help them learn about the science of planting. Going will also show your preschoolers that so many people work hard to make sure that there is plenty for everyone to eat and enjoy. So, if you have an accessible and child-friendly orchard in your area, do not miss the chance to visit it with your kids while they are eager to learn.
Sing and Dance to Songs about Fruits and Vegetables
Children's songs exist for a reason – they are effective ways to introduce topics to kids. When singing songs, children remember the words better, recall the story behind the lyrics, and ultimately learn about the subject much more quickly. That said, singing songs about fruits and vegetables is another great way to help teach your kids about different fruits and vegetables.
If you need songs that sing about fruits and vegetables, check out this list from Enchanted Learning.
Fruit and Vegetable Garden Discovery Bottle
Create a discovery bottle for fruits and vegetables with these three easy-to-find materials: a clear, empty bottle like this, dry black bean seeds, and miniature fruits and vegetables (you can choose toys from the toy shop or even fruit or vegetable-shaped mini erasers like these).
Once you've gathered all the materials, put them in a bottle and then give them to your preschooler to have fun with. They can name what they find, classify them as fruits or vegetables, and even learn more fun facts.
For a complete guide on creating this easy fruit and vegetable discovery bottle, check it out at Sunny Day Family.
Vegetable Eraser Set
These vegetable-shaped erasers are super cute and nicely detailed.
They are made with environmentally-friendly materials and can be taken apart and reassembled like a puzzle.
A great addition to any sensory play garden or small world farm.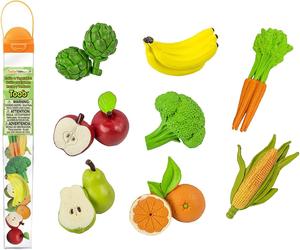 Fruits & Vegetables Toob
This product has 8 fruit and vegetable replicas that are lead-free and safety tested.
It's perfect for Easter egg hunts, sensory bins, and learning activities like teaching the names of fruits and vegetables.
The vibrant colors make them great for display in the kitchen, but some customers found the figurines small.
Fruit and Vegetable Hunt Farm Sensory Bin
A bigger and more interactive version of the discovery bottle is this sensory bin. You can fill it with black beans and then your miniature fruits and vegetables. You can also include some gardening toys to add a more fun atmosphere to the sensory bin. Then you can ask your preschooler to find the different fruits and vegetables in the bin. Simple, fun, and easy!
Check out Life Over CS for a complete guide on this activity.
Vegetable Garden Labels
If you love gardening and would like to teach your preschoolers about the many fruits and vegetables you have planted, have them help you create these cute vegetable garden labels. All you need are some craft sticks, foam, googly eyes, glue, and a marker. With your guidance, your kid can cut out the shape of the different vegetables you have in your garden using foam. Then, animate them with some googley eyes and finish writing the name. Your garden is ready to be decorated with these adorable labels that your kid worked hard on.
For a full tutorial, check out Dabbling Momma. Check out our gluing activities for more inspiration for projects.
Vegetable Math Game
Playing this math game using fruits and vegetables is another way to teach your child both math and fruits and vegetables. You can do different variations depending on the availability of your materials. For instance, instead of simply asking for "8 vegetables," you can also say to the group "8 red vegetables" or "8 round fruits". Simply set up the corner where your kids can choose or "shop" for the items you asked them to group. In a separate area, they can put down the items they just purchased in your pretend store. They will be learning the different types of fruits and vegetables available while sharpening their counting skills.
Check out the complete guide Fantastic Fun and Learning here.
Paint with Fruits and Vegetables
Here's a fun way to showcase the different sizes and shapes of fruits and vegetables – have your preschoolers use them to paint! Be ready with different paint colors and use cut-out fruits, vegetable stalks, and all other materials you can gather. Let your kids draw a masterpiece through stamping techniques and using them as brushes.
Check out Fantastic Fun and Learning to learn more about this activity.
Fruit and Vegetable Guessing Game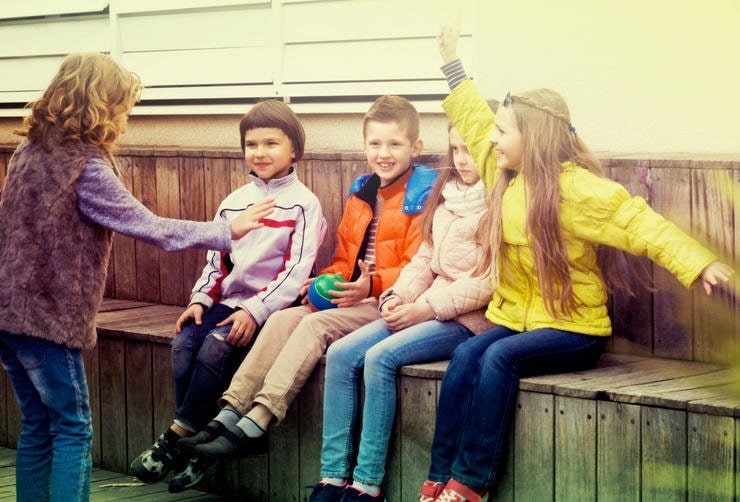 Assign a fruit or vegetable to one kid and let the rest guess what it is through different clues. They can describe the shape, color, texture, and all other information they know about it. This way they enhance their thinking skills and strive hard to give the perfect descriptions of the fruit or vegetable assigned to them. The group that's doing the guessing also develops critical-thinking skills. If you have actual fruits and vegetables available, you could also let them touch them without looking like an added clue to help them figure it out.
Fruits and Vegetables Coloring Pages
Provide your preschoolers with coloring books about fruits and vegetables. They will learn about these healthy foods while also practicing their coloring skills. And, if the templates or booklets you get have extra activities such as writing fruit and vegetable names and matching games, then you teach them so much more skills all in a single book.
In all these fun activities that help your preschooler learn about fruits and vegetables and other essential skills and lessons, make sure you are available to guide them. You should be ready to correct them and provide the support and encouragement they need to keep learning about all these important objects through lessons.
Teaching fruits and vegetables to preschoolers can be fun and exciting with these 20 activities and ideas. From reading books about fruits and vegetables to creating a pretend fruit and vegetable stand, there are plenty of ways to encourage children to learn about healthy eating habits. Other activities include growing carrots from carrot tops, playing matching games, visiting a local orchard, and even painting with fruits and vegetables. By making learning about fruits and vegetables fun and interactive, parents can help their children develop a love for these healthy foods at an early age.