20 Fun Bug Activities for Toddlers
Is your young child a little bit obsessed with bugs? That should come as no surprise, given how fascinating bugs are!
So, as you explore new ways to teach your kids important lessons, the best way to do it is to take the lead when it comes to their areas of interest. And, if they are interested in bugs, then let them have fun enjoying various bug activities for toddlers!
Here are some insect and bug activities for toddlers and preschoolers that you can try that will aid in the growth of your little ones while they learn through play.
Ladybug Dots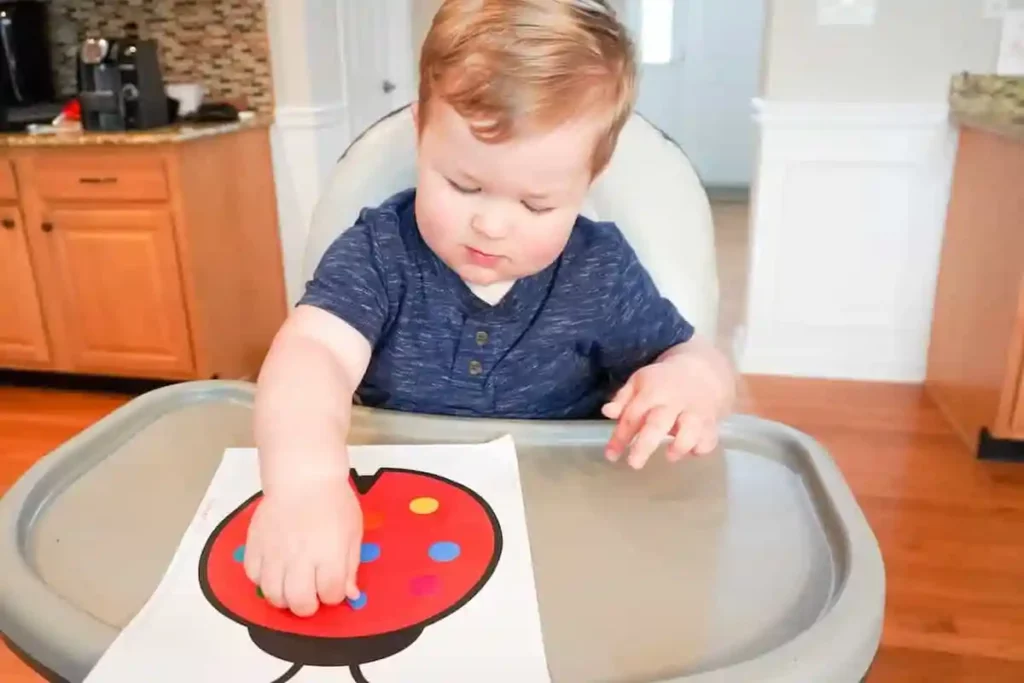 This simple activity only needs you to print a ladybug template. Make it attractive and large enough for your toddler to stick the colored dot stickers. This activity will assess their creativity level in designing the dots on their ladybug and is an excellent opportunity to help them get more familiar with colors through the colored dots. For this activity to be more entertaining and educational, you can give instructions to only stick a specific color and number of dots, as well as any other variation you can think of.
Bug Songs for Toddlers
Singing is a tried and tested way to help kids learn. Thankfully, there are enough bug songs that you can teach your little ones, like Itsy-Bitsy Spider, The Ants Go Marching, Bringing Home a Baby Bumble Bee, and so much more! Plus, you can even make up songs with your toddler and pair the activity with some bug photos or puppets to make it more entertaining.
For more children's songs about bugs, check out Childhood 101's list!
Bug and Insect Books for Kids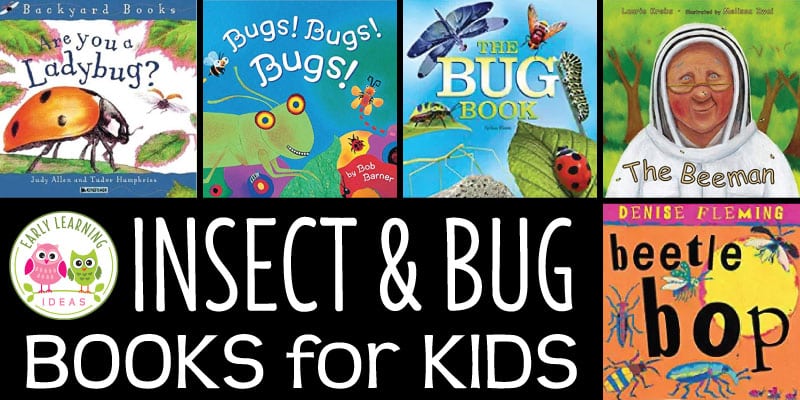 Next to singing, there is also reading. Nothing beats storytelling to let your toddlers learn about the many bugs out there! Early Learning Ideas has a great list of books you can try. This activity will not only teach them about bugs but will enhance their comprehension skills. Plus, it will be a great way to encourage them to love reading books, regardless of the topic or story.
Bottle Cap Bugs
Do you have bottle caps lying around at home? Before throwing them out, consider turning them into these colorful bottle cap bugs!
This activity will activate the creativity of your little one as they design their bugs on the bottle caps. Provide them with different craft materials they can use and watch them turn your caps into wonderful works of bug art.
For more ideas about this activity, check out This Grandma is Fun.
Paper Plate Ladybug Craft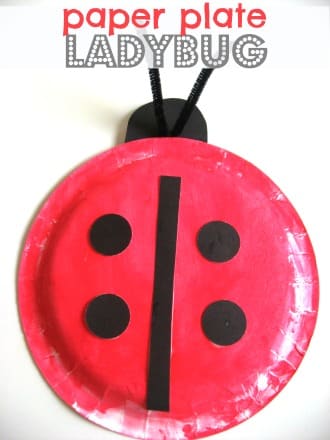 This is a cheap and easy craft you can recreate with your toddler. All you would need are paper plates, black construction paper or a black marker, some red paint (or any other color is fine!), pipe cleaners, scissors, and glue.
After coloring the plate red, simply cut out circles and a rectangular line from the black construction paper and stick them on top of the paper plate. Or you can also draw in the circles and lines using a black marker. Then add the head, poke two holes, and insert the pipe cleaners.
For a more detailed guide about this activity, see No Time for Flashcards.
Make An Entomology Lab
Look for ideas for an entomology lab dramatic play area. In this insect study lab, your children will enjoy playing and learning. Studying insects in this lab will be so much fun for your little entomologists.
To put together equipment for your research lab, use your ingenuity to create bugs using various craft materials, or you can buy plastic ones. There's no limit to what you and your kid can come up with!
For more ideas, check Early Learning Ideas.
DIY Insect Sensory Bin
Sensory activities are fun for kids and adults of any age, and this is one of the best ways to let your kids enjoy playing with various bug toys. Create various sensory environments for different bug types, and help your kids understand why and how certain bug species live in a specific environment.
Learn more about this activity at Simply Designing.
Bee Finger Puppet Craft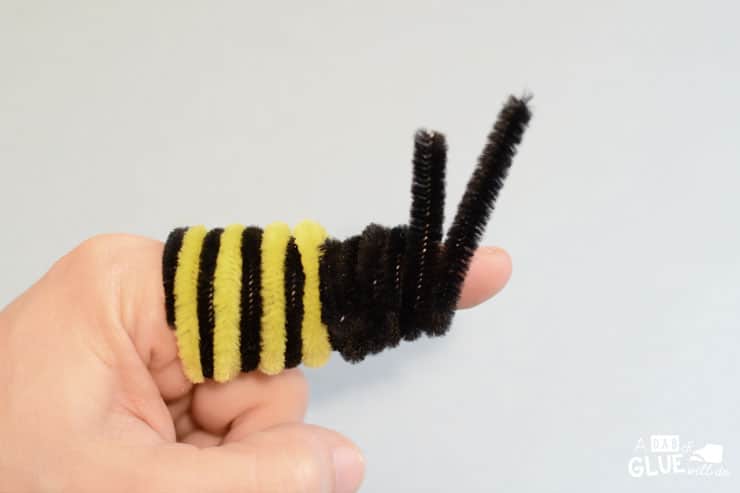 This craft is so simple, yet so cute and fun! All you need are pipe cleaners in black and yellow to intertwine on your or your kid's fingers to form this adorable bumblebee finger puppet.
For more details, check A Dab of Glue Will Do.
Also, see our lists of 20 Fun Bumble Bee Crafts for Toddlers.
Fly Swatter Painting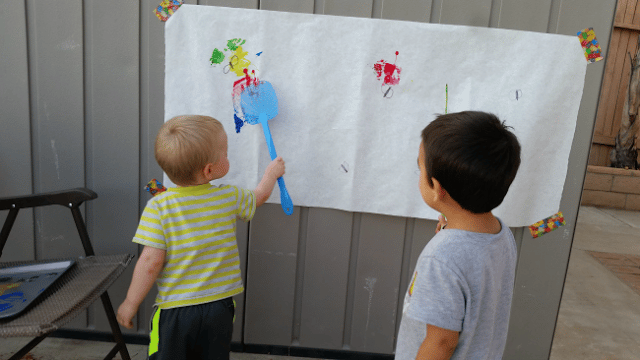 Fly-swatting isn't something kids should be doing yet. But, yes, painting with a fly swatter!
This is a simple yet creative idea that you can use to keep your toddlers busy for a few hours. Provide them with various paint colors, a fly swatter, and butcher's paper to "swat" on. You can make it more fun for the little ones by sticking or drawing insects on the paper so they can pretend to swat them. A marvelous abstract masterpiece awaits everyone after this activity!
For more ideas on how to set this activity up, check out Play Teach Repeat.
Bugs in a Jar Counting Game
Here's another simple activity you can do with just a printable template from the Internet, some colorful printouts of different bugs, and your child's willingness to learn counting in a fun way!
They will learn to count as they stick the number of bugs on the jar after rolling the dice; you can add rules such as what color bugs to add to the jar, what type of insect to add, and so on.
To see the step-by-step guide to creating the materials for this activity, check out The Measured Mom.
Bumble Bee Alphabet Match
Here is another printable activity you can easily access from the Internet. After cutting the bee templates in half, your child should pair them so that both letters appear on the right and left sides of the paper. It's a great way to help toddlers become more familiar with the alphabet's letters.
Learn more about this activity at Modern Preschool.
Feed The Bee Alphabet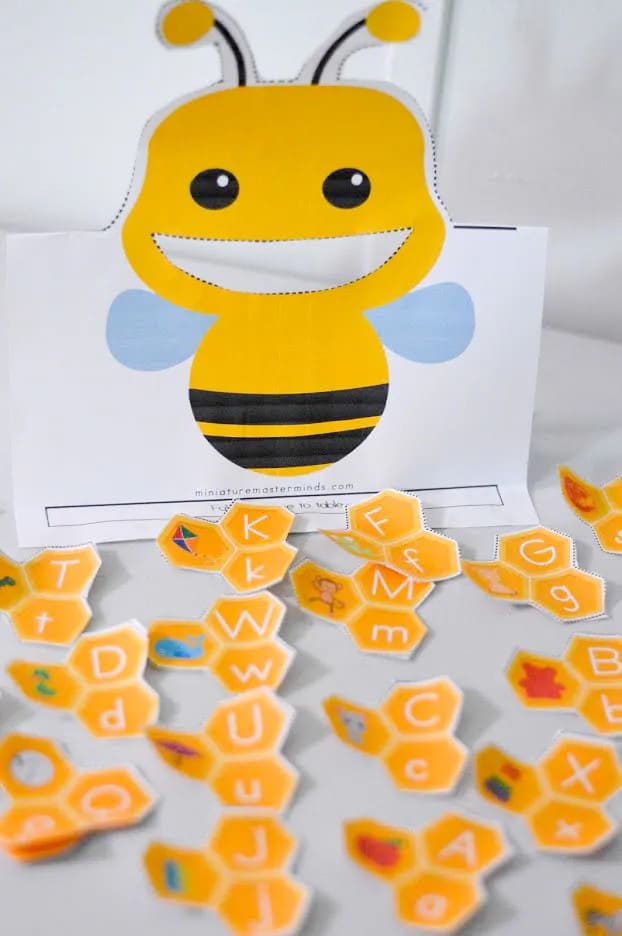 With this fun hands-on activity, you can help your toddler practice his alphabet sounds! Let them "feed" the bee with the pictures and letters on the honeycombs by giving them instructions on what to feed.
More guidelines about this activity are at Miniature Masterminds.
Spider Web Gross Motor Activity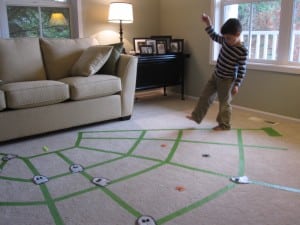 Teach your little ones physical and mental skills through this bug game. It helps improve their balance while enhancing their comprehension skills as they go through the obstacles of this spider web to reach a goal.
Plus, creating this web at home is easy! You will only need tape to form the web and some spider toys.
For more ways to make this activity fun, check out No Time for Flash Cards.
DIY Butterfly Wings
Does your toddler want to become a butterfly? Help them achieve that dream by creating these wings for them! It's perfect for role-playing games and special events. Design colors and shapes for your little one and watch them transform into a pretty butterfly!
For a detailed guide on how to recreate this craft, check out Buggy and Buddy.
Playdough Bug Fossils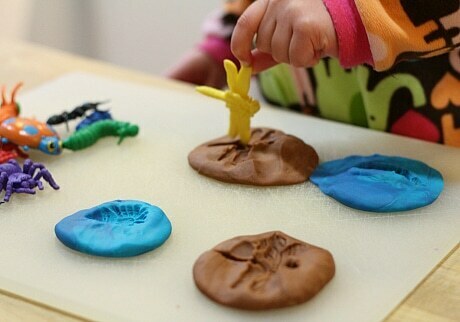 Kids love playing with playdough and this is an idea you can try to do for your next playdough activity. Make sure you have a great selection of plastic bug toys with unique and intricate designs that can leave more visible imprints.
For more ideas, check out No Time for Flash Cards.
Fingerpainting Bugs and Counting Numbers
These printables will help your child create caterpillars through fingerpainting and, at the same time, learn how to count. Print variations of the template and provide them with different colors to use to make this more fun.
For more ideas, check out Fun Hand Print Art Blog.
Egg Carton Caterpillar
This is a classic craft where you will need an egg carton, paint, pipe cleaner, sharp scissors, a paintbrush, and markers. Let your toddler color the egg carton however they wish. Just make sure that you provide them with the materials and take the necessary measures so that paint does not stain your play area. Then, once the paint dries, poke small holes big enough for your pipe cleaners to go through, as they will serve as the caterpillar antenna. Draw in the eyes and the mouth and you've created a masterpiece with your child!
For more details, visit No Time for Flashcards.
Bug Color Matching Activity
This insect color-matching activity is an excellent place to start if your child is beginning to distinguish between different hues of colors. Matching, sorting, and memory games can all be played with this free printable game. Simply print, download, and match!
For a complete guide, visit The Activity Mom.
Easy Butterfly Paper Plate Craft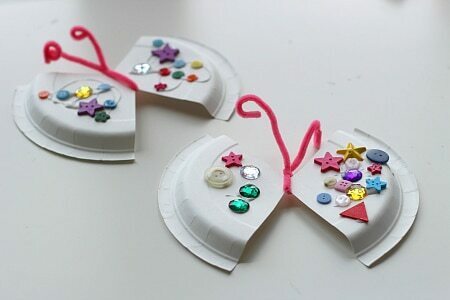 Bring out your toddler's creativity and watch them decorate this simple butterfly paper plate craft on their own! Who doesn't love simple crafts that can be set up and made quickly using only a few materials? Start by cutting plates similar to a butterfly's wings, then wrap pipe cleaners in the center. Then, with whatever buttons, gems, and other colorful, decorative craft materials you have, let your toddler glue them on the wings. This not only helps them be more creative, but it also helps them improve their motor skills because they have to use glue and scissors to make the wings.
Check out No Time for Flashcards for more ideas.
Bug Bingo
With this activity, you will need a colored bug bingo card that you can simply print, colored dice, and colored bug toys. If colored dice are unavailable, you can simply use ordinary dice and color the sides. The goal is to have three bugs in a row on the card!
Toddler Approved has more detailed instructions for this activity.
We are a participant in the Amazon Services LLC Associates Program, an affiliate advertising program designed to provide a means for us to earn fees by linking to Amazon.com and affiliated sites.