11 Easy Paper Crafts For Kids
Are you running out of ideas on the next fun learning activity you can do with your kids today? Then gather all the paper materials in your home and create some easy paper crafts with your kids!
Paper is one of the most common craft materials you can easily find. Plus, there is a lot of easy paper craft for kids that you can do.
Whether it's construction paper, old newspapers, bond paper, or colored paper – there will always be some laying around in the house.
Enjoy these 11 amazing and easy paper crafts for kids ideas and have some paper fun with your little one!
Paper Chain Caterpillar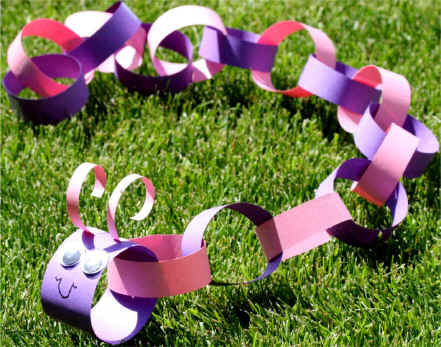 This is a cute, colorful, and fun simple craft that kids of all ages can enjoy. It is also a great way to teach your kids about color patterns. Let them choose the colors for their caterpillar and guide them in using the basic craft tools needed such as scissors, tape, glue, and markers.
For a complete tutorial on how to do this adorable paper caterpillar craft, click here.
Paper Doll Ballerinas
Pretty ballerinas can always be a welcoming sight in the home and it will be more special when it is made by your little ones.
This simple craft combines making paper dolls and giving them beautiful cutout skirts. You can create different patterns on the skirts giving each of your paper ballerinas a unique style.
Learn how to do this easy day craft here.
Giant Paper Plane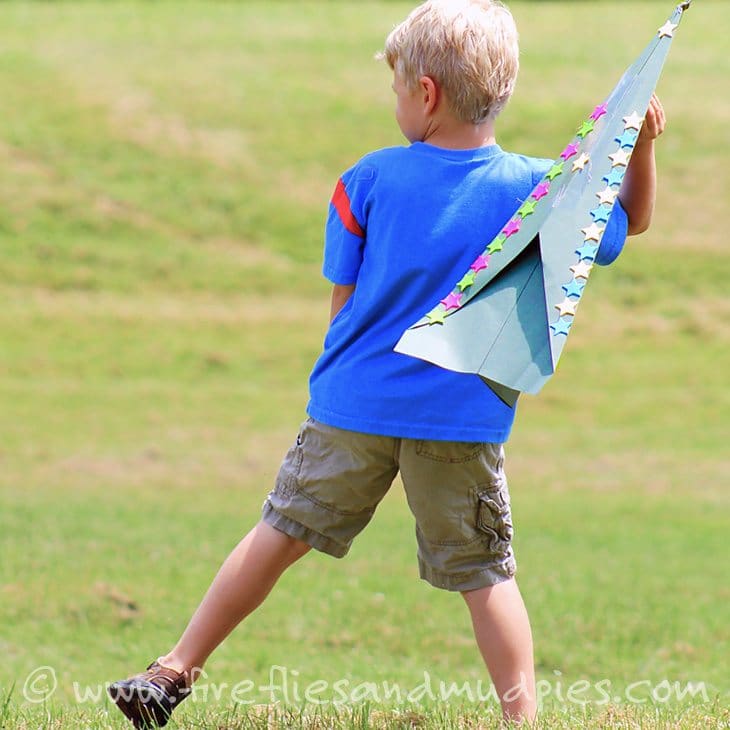 All kids love paper airplanes. It is one of the most common paper-folding toys that they learn to do because it is easy and fun.
Take it up a notch with giant paper planes! These will be perfect to play with while hanging out with the family in the park or outdoors on a fine day. When the wind blows, you can see this amazing papercraft fly high and twirl around – a sight that will surely be a delight to your child. Check out our list of 9 fun airplane crafts for kids.
DIY Paper Dinosaur Hat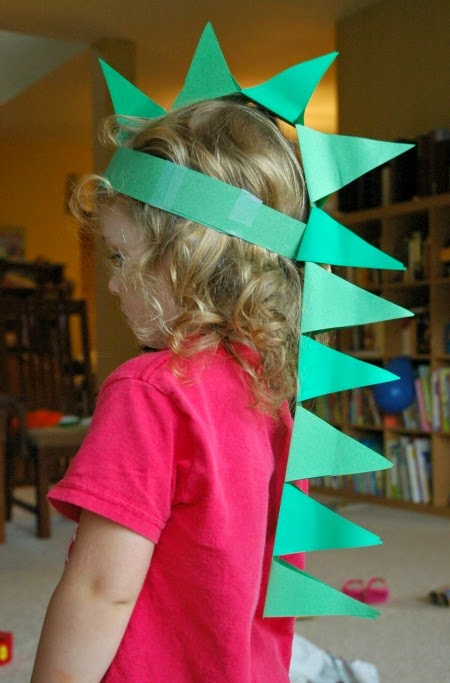 Is the afternoon perfect for a game of pretend? Then let your kids play with dinosaurs and explore a day in your backyard with these amazing historical creatures!
To make things more fun, have your kids wear this DIY paper dinosaur hat. It is super easy and fun to make and you can create as many as you want in different colors and sizes.
Shark Origami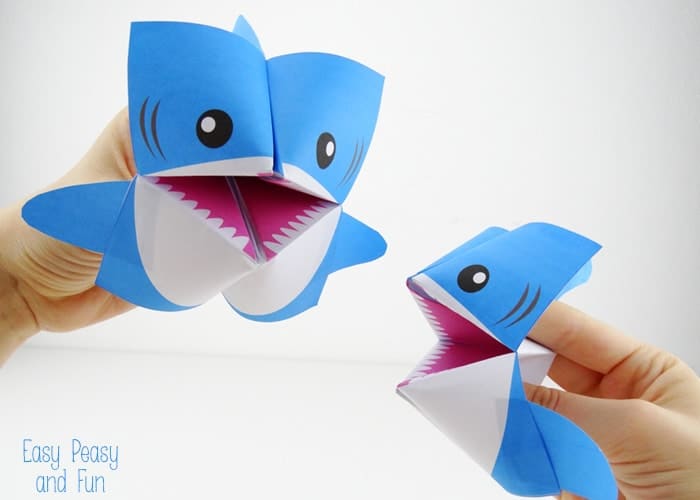 Paper origami is another way to have fun with your paper materials laying around just waiting to turn into something marvelous and fun.
For this origami project, you can create cute sharks that your kids use to can play with their siblings or friends.
Here's how you can create your own shark origami for kids.
Newspaper Hat
Are you done reading the newspaper for today? Then turn it into something fun for your kids to enjoy wearing around the house with a newspaper hat!
Check out how you can make this DIY hat for your kids through the website here.
Paper Bag Fireplace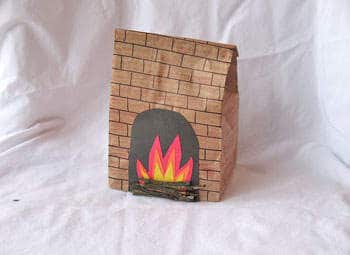 Do you want something new and fun for your kid's party loot bag? Is kid's movie night happening soon and do you want something fun to hold your popcorn in? Or do you simply want to teach your kids how to make art out of paper bags lying around in your home? Then teach them how to create these pretty Paper Bag Fireplaces!
All you need to start this activity are some paper lunch bags, coloring or drawing materials, and construction paper.
Paper Flower Craft
Dads, help your little ones make gifts for mom more special with these beautiful paper flowers. They can make it for Mother's Day or her birthday. Don't wait for any special day. Moms deserve lovely flowers every day anyway. So go here to learn how to perfect this craft.
Folded Paper Bracelets
Your kids have most likely made lots of paper drawings. Some are in your rooms and walls while some are kept in drawers and boxes.
If you want to recycle this artwork into something that your kids can use again then try turning them into amazing, folded paper bracelets.
Your kids will love turning paper into these pretty bracelets so go ahead and click here to learn how.
Paper Weaving
Weaving paper is one of the more basic papercraft techniques you can teach your kids. It's an easy way to turn ordinary colored paper into a creative masterpiece that you can use as decorations for your kid's walls or as designs on notebooks or cards.
This is also the perfect paper craft activity to do when you want to do something mess-free. It needs no other materials other than a scissor and colored paper and the skills to weave them neatly. Creating paper-weaving crafts will also enhance the fine motor skills of your kids so you'll not only be creating masterpieces but you will also be enhancing your child's creative skills.
Learn how to do paper weaving through the link here.
Fish Paper Craft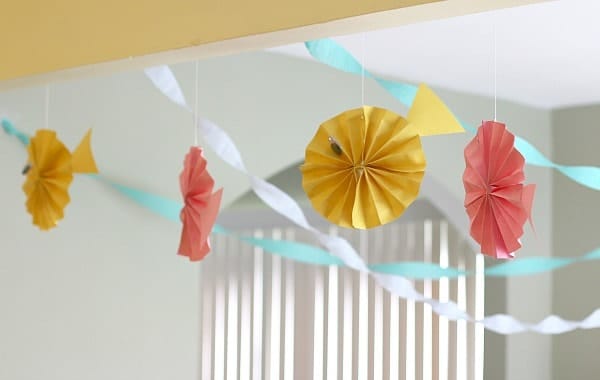 Does your kid love the sea? Are they fascinated with ocean creatures such as fishes and shells and corals? Or do you simply want to help them learn about the amazing underwater world?
Then this Fish Paper Craft is the perfect activity for you!
It's perfect to hang in your kid's room or as party decorations for a birthday party. Your kid will be happy and proud to see their crafts hanging as designs in your home.
Easy paper crafts for kids are fun and simple. They are also mess-free and cheap to make. Plus, you will also be teaching your kids how to recycle paper. So go ahead and start your fun paper crafts project with your kids today!